The story of the Channel Bilateral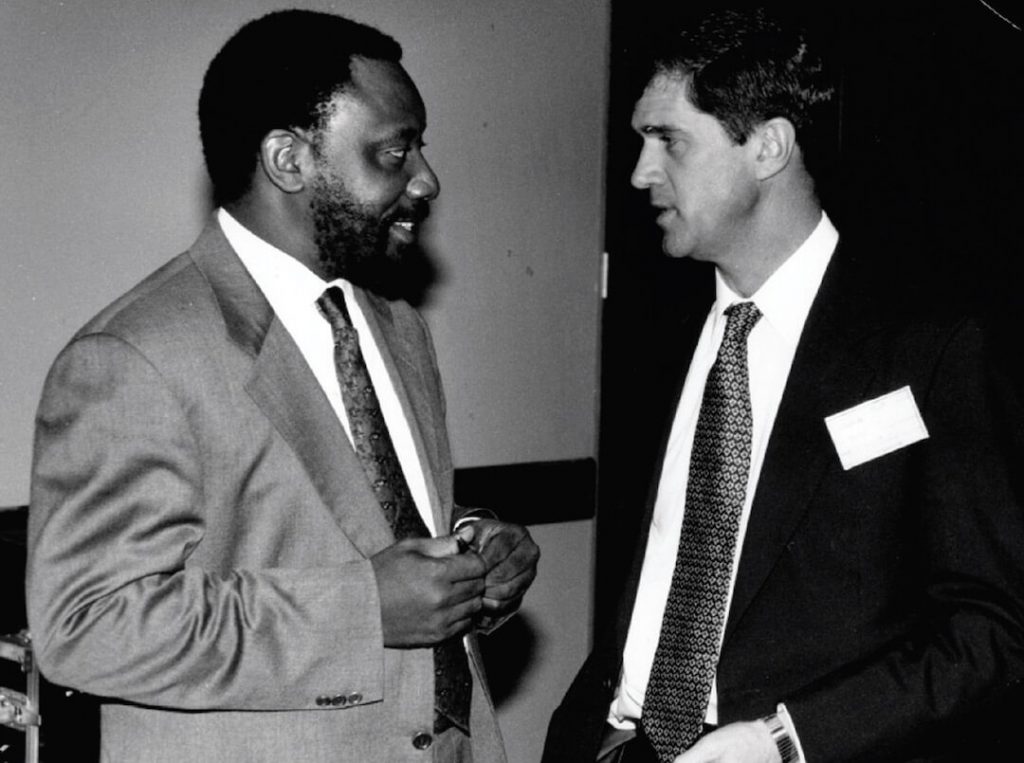 Initially, Ramaphosa and Meyer met alone in an attempt to overcome the tensions between the ANC and the government. When the ANC's National Executive Committee (NEC) and its alliance partners – COSATU and the SACP – got wind of the meetings, however, they were angry. They agreed that Ramaphosa could continue to meet with Meyer, but with mandated delegations.
Although members of the ANC's NEC had to adjust to this new style of personalised communication between the two men, they welcomed the ease and clarity it brought to the decision-making process.
Meyer later referred to this time as highly productive as it allowed his party to go back and rethink the issue of group rights. The pro-negotiation faction within the NP leadership took control at this time. In the ANC's view, Meyer was someone who knew that majority rule was inevitable and who was able to get his party to move along the difficult and hazardous route ahead. They acknowledged that the conversation was critical in re-establishing a situation of mutual trust between the government and the ANC.
The most important agreement to come out of these discussions was that a democratically elected body would write the constitution. The ANC then agreed that constitutional principles would be negotiated in advance and that these would be entrenched in an interim constitution. The final constitution had to comply with these principles. The NP also secured agreement that there would be a government of national unity for a limited period.
"We needed to find a way out of what was fast becoming a logjam. How was the ANC going to be sure that the demands made on the regime would be met before substantive negotiations could resume? Leadership was required. Risks had to be taken."
-Hassen Ebrahim, then National Coordinator of the ANC's Negotiation Commission
"Ramaphosa's and Meyer's similar style of never being prepared to accept defeat and always searching for mutually acceptable answers was an important ingredient in the final success of the negotiations. It allowed the ANC and the NP to remain close to each other in respect of the process even when there were major differences as far as policy matters were concerned."
–Leon Wessels, then Deputy Minister of Foreign Affairs and lead NP negotiator
"Roelf Meyer is a person who saw the light much earlier than many of his colleagues. He acted very cleverly when he realised that changes had to be effected in this country by going all the way, co-operating and not being a stumbling block."
-Cyril Ramaphosa, then Chair of the ANC's Negotiation Commission
"While Cyril had undertaken this discussion with Roelf with Madiba's knowledge, it had to be secret because you couldn't have a public position of having broken down negotiations and yet there are discussions. So there were these quiet discussions. Members of the NEC then got to know about this channel and people didn't know the extent to which these discussions were unfolding."
–Hassen Ebrahim, then National Coordinator of the ANC's Negotiation Commission
"Roelf and Cyril had the patience … To find a solution to every problem. I personally didn't have the patience to work with those who were recalcitrant and putting obstacles in the way."
-Leon Wessels, then Deputy Minister of Foreign Affairs and lead NP negotiator
"Walter Sisulu came to the Negotiations Commission meeting and criticised … Cyril quite severely. Cyril apologised. The [Commission] then agreed that the approach is correct but the way in which the approach should be dealt with should be done in a much more accountable manner, and so a delegation was organised. Cyril would not go alone. He would go with people from the Negotiations Commission and they would undertake what would be referred to as Channel Bilateral."
–Hassen Ebrahim, then National Coordinator of the ANC's Negotiation Commission
"Cyril Ramaphosa was astonishingly good – wise, thoughtful, very collegial, and with a good sense of what was going on. And from the other side, Roelf Meyer emerged as a thoughtful and equally hardworking counterpart."
-Albie Sachs, then member of the ANC's Constitutional Committee and Negotiator at CODESA