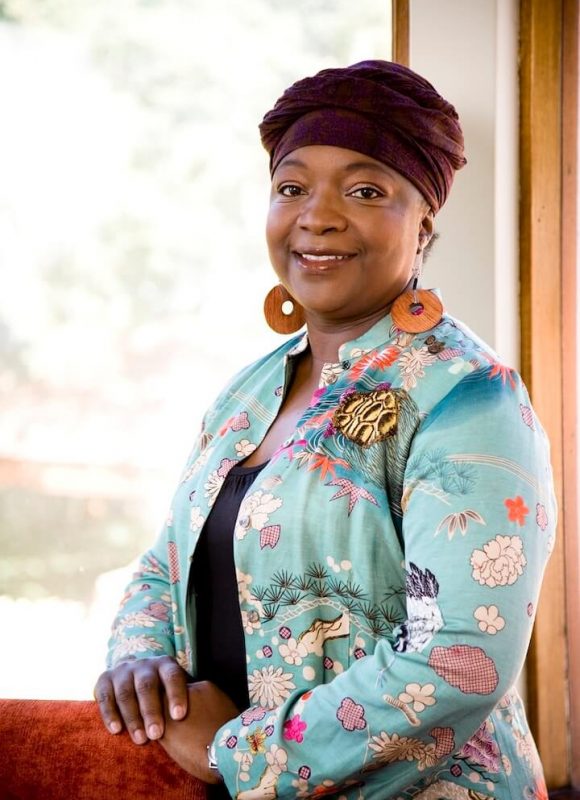 Anti-apartheid activist | Social worker | Children's rights activist
"June 17th was a horrible day. But I think from that moment onwards I was almost carried by something else, you know. Within me something was born … I can't describe it quite, but it's a sense of: we are going to be in this for a long time. And up until we changed the status quo there was no way that I could see myself outside of this huge struggle and movement that we'd been part of and that we'd started, where people have paid the highest price…"
Who is
Sibongile Mkhabela?
Student leader and activist during the 1976 student uprising, social worker, CEO of the Nelson Mandela Children's Fund.
Chief Executive Officer (CEO) of the Nelson Mandela Children's Fund as well as the Nelson Mandela Children's Hospital Trust.
Mkhabela was among the 11 student leaders arrested in connection with the 1976 student uprisings and held in the Old Fort Prison and Kroonstad Prison.
Mkhabela was a student leader and executive member of the Soweto Students' Representative Council, as well as the General Secretary of the South African Students Movement – driving forces behind the 16 June 1976 student uprising.

Mkhabela was charged along with 10 other students for sedition in what was known as the Soweto 11 trial, and imprisoned for three years.

On Mkhabela's release in 1982, she spearheaded the formation of a Para-legal Advice Centres Association.

Mkhabela served as a consultant for the United Nations Development Programme, helping it to establish a presence in South Africa.

From 1995 until 1999, she served as Director in the Office of then Deputy President Thabo Mbeki, responsible for programming with reference to civil society-government partnerships and the implementation of the UN Children's Charter.

Mkhabela championed a R1 billion fundraising campaign to allow for the building and opening of the Nelson Mandela Children's Hospital in 2016.

Mkhabela was awarded the National Order of Luthuli in 2018 in recognition of her fight against apartheid and advocacy for children and African societies.
"For me I remember when we were marching, we were coming from Naledi, that was my high school, and it's further down in the west, and Hector (Pieterson) died, I think, more to the south.
And as we were marching we got the message that the group that was coming to join us, it's in that group that Hector (Pieterson) had died. For me that was a defining moment, if there were defining moments, and that sense of loss where a little boy, Hector (Pieterson), just never left me … has never left me to this date. I'm aware of it, it's still kind of … there's still a sense of mmm … and more than upset, and enraged by that killing. And of course there's a sense of horror, but more the sense of loss … and having been instrumental, having been a student leader, having organised the young people to march, having taken them out of the classroom, there's a sense of responsibility that you can't separate yourself from. You can rationalise it, you can understand how it happened and the fact that you would have done the same even if you had known that that was going to be the final consequence … you would have done the same. You would have organised the march. You would have taken to the streets…. So for me that moment that I remember walking with my friends and hearing this message, that at that point there is no turning point, we've paid the highest price. Going back would be to be unfaithful to the boy who had died. 
And by the end of that day we didn't have as many deaths as we had the next day, June 17th. June 17th was a horrible day. But I think from that moment onwards I was almost carried by something else, you know. Within me something was born … I can't describe it quite, but it's a sense of: we are going to be in this for a long time. And up until we changed the status quo there was no way that I could see myself outside of this huge struggle and movement that we'd been part of and that we'd started, where people have paid the highest price…"
– Sibongile Mkhabela
"[My mom is] crazy, daring and incredibly courageous. She is not linear; she is so much more than just a mother. So many mothers want to shield their children, but my life with her is always an adventure. She says, 'always ask yourself, what you are doing for your society?'"

– Ntsako Mkhabela, daughter of Sibongile Mkhabela
Mkhabela was the only female student arrested during the 1976 uprising.