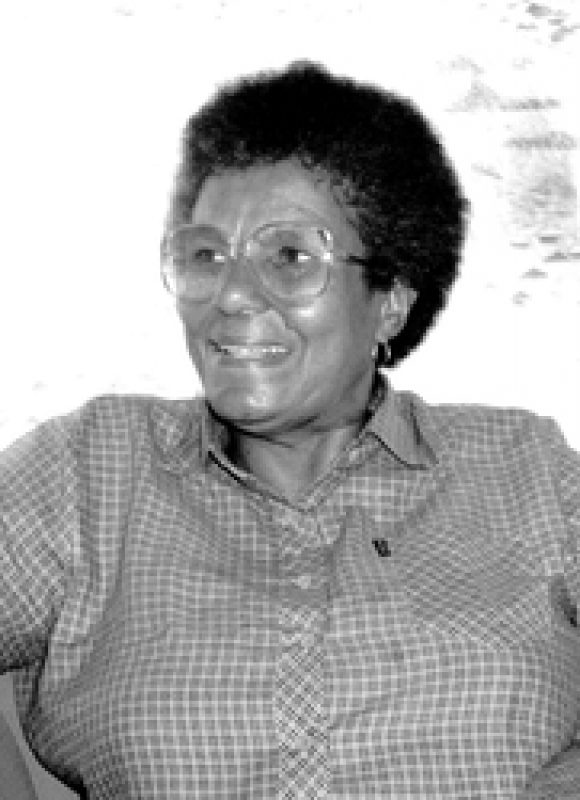 Politician | Human rights activist | Diplomat
Born: 14 September 1925 Died: 12 May 2015
"I am ready to do what may be required of me for a few more years. I shall then return to this place to be buried with those who died before me."
Teacher, member of the African National Congress (ANC) and anti-apartheid activist, former ambassador to Switzerland, and mayor of Vryburg.
Former ANC politician, ambassador, and mayor.
Involvement as an anti-apartheid activist and ANC politician, ambassador, and mayor.
After completing standard 6, Mompati had to work looking after the child of a white family. Her father had died when she was 14 and her mother did not have enough money to keep two children in college. She eventually saved up enough money to attend Tygerkloof Teachers Training College.

During her early teaching career, Mompati was part of both the students' union as well as the teachers' unions. She moved to Johannesburg in the early 1950s and left teaching. She studied shorthand and typing, eventually getting a job as a typist for Nelson Mandela and Oliver Tambo's law practice from 1953 until 1961.

Mompati was involved in the Defiance Campaign of 1952, and was a founding member of the Federation of South African Women (FEDSAW) in 1954.

In 1954, Mompati joined the ANC and was elected to the National Executive Committee (NEC) of the Women's League.

Mompati was one of the leaders of the Women's March on 9 August 1956.

Mompati went into exile in 1962 and underwent military training. She also served as the secretary and head of the women's section of the ANC in Tanzania.

She served as a member of the ANC's NEC from 1966 to 1973, and formed part of the President's office of the ANC.

Mompati served on the ANC's Board of Religious Affairs.

Between 1981 and 1982, she served as chief representative of the ANC in the UK and was part of the delegation that opened talks with the South African government at Groote Schuur in 1990.

In 1994, she was elected a Member of Parliament (MP) in the National Assembly.

Mompati was appointed ambassador to Switzerland from 1996 to 2000.

From 2000 she became the mayor of Vryburg in the North West Province, and served there until 2010.

In 2014, the ANC awarded Mompati the Order of

Isithwalandwe/Seaparankwe

, the party's highest honour, given to those who made outstanding contributions to the liberation struggle.
"I am ready to do what may be required of me for a few more years. I shall then return to this place to be buried with those who died before me."
– Ruth Mompati
"We were a team … We co-operated; we pushed one another to give each other strength because you never knew whether you'd be the next victim … whether you'd be the next one who'd be shot."
– Ruth Mompati
"She mothered all of us. When things were tough she would protect us under her wing."
– Max Sisulu, Former speaker of the National Assembly
"When people talk about Mme Ruth they are filled with joy and inspiration. That is because this proud African and progressive internationalist brought hope and progress in our lives and in our country.
She lived these values of unity, selflessness, sacrifice, collective leadership, humility, honesty, discipline, hard work and mutual respect."
– Jacob Zuma, Former President of South Africa
Mompati was born in Tlapeng Village, a few kilometres from Ganyesa in Kagisano-Molopo area within the district of Bophirima, now called Dr Ruth Mompati District Municipality, named after her.