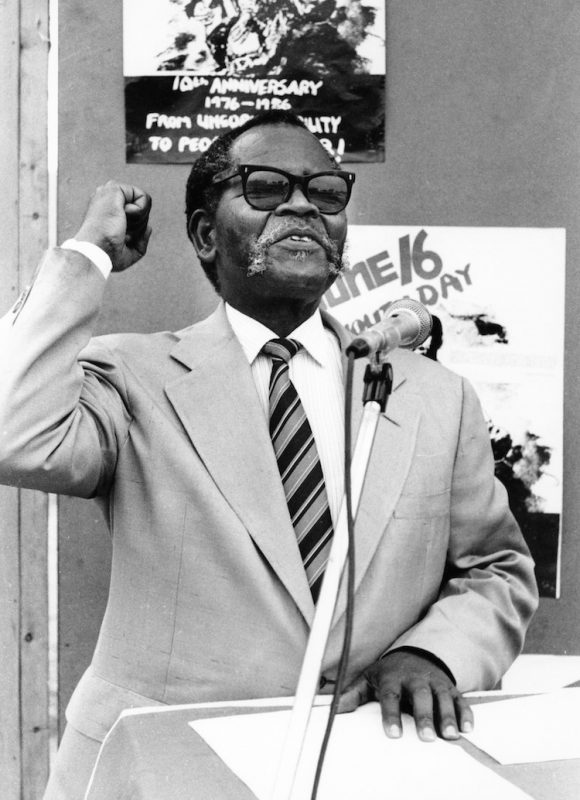 Politician | Lawyer | ANC President
Born: 27 October 1917 Died: 24 April 1993
"Together we have the ability to defeat those who subvert the United Nations, its Charter and its decisions. The apartheid regime stands out among such subversive forces. We have a joint responsibility to work for its eradication. Our common victory is certain."
Who is
Oliver Reginald Tambo?
President and National Chairperson of the African National Congress (ANC) who played a leading role in the ANC's development, identity and conceptualisation of post-apartheid policy scenarios.
Politician, lawyer, ANC President, teacher, human rights activist.
Leading the ANC throughout its three decades in exile, as well as proving himself as a consummate diplomat and leader, building a formidable international coalition which recognised the ANC as the leading force in the liberation struggle.
Tambo studied sciences at the College of Fort Hare, where he met Nelson Mandela at the Students' Christian Association. After graduating, he found a position as a teacher in physics and mathematics at St Peter's.

Tambo became informally involved in discussions of a committee of ANC members, drawing up a document called the African Claims in South Africa. The document was adopted by the ANC in 1943.

Tambo conceived of the idea of a national grouping of young men, which would then crystallise into the ANC Youth League (ANCYL). Tambo was elected as the League's Secretary.

In the late 1940s, Tambo enrolled to study law through correspondence. In 1948, he served his law articles at a company of white lawyers, Max Kramer and Tuch. In 1949, he moved to the company of Solomon Kowalsky. He qualified as an attorney in 1951.

After qualifying, Tambo opened up a legal firm with Nelson Mandela. When Mandela was banned in 1951, Tambo had to carry the workload on his own.

In 1953, Tambo was appointed as the National Secretary of the ANC after Walter Sisulu was banned by the government.

In 1954, Tambo was elected Secretary-General of the ANC. That same year he received his banning order from the government, but remained actively involved in the background, working as a member of the National Action Committee to draft the Freedom Charter.

In 1956, Tambo was detained as part of the Treason Trials but was granted bail. After the preliminary hearings he was acquitted.

In 1957, Tambo was elected Deputy President of the ANC.

In 1959, Tambo headed the ANC's Constitutional Commission, recommending more constitutional recognition for the ANC's Women's League and Youth League.

After the Sharpeville Massacre of 1960, Tambo embarked on a 'Mission in Exile' in order to gain international support for the liberation movement. At the same time Tambo's wife and family were moved to London for safety reasons. During his time in exile, Tambo made a number of high profile speeches. The most prominent one was made to the United Nations (UN) in October 1963 which inspired the UN Resolution XVIII, calling on the South African government to release all political prisoners.

In 1962, Tambo was confirmed as the head of the ANC's Mission in Exile, overseeing the growing number of ANC exiles, the Umkhonto we Sizwe (MK) military camps, fundraising, and setting up the ANC offices around the world.

In 1969, Tambo tendered his resignation from the ANC following personal attacks. However this caused disarray and he was persuaded to return and was unanimously re-elected President.

In 1985, Tambo delivered his most dramatic speech calling on people to "render South Africa ungovernable".

In 1987, Tambo appointed a commission of ANC legal people to draw up a constitution to reflect the kind of country that the ANC wanted for the future.

That same year, Tambo headed a top-secret mission by MK known as Operation Vula.

In 1988, Tambo appointed a President's Team on Negotiations to draw up the ANC's position and approach to the negotiations. He also led and worked closely with the team which drafted the Harare Declaration. The Declaration provided a framework to the ANC during the Convention for a Democratic South Africa (CODESA) negotiations.

Tambo and his family returned to South Africa in 1990. The position of National Chairman was created in his honour.

In 1991, he was installed as Chancellor of the University of Fort Hare.
"Together we have the ability to defeat those who subvert the United Nations, its Charter and its decisions. The apartheid regime stands out among such subversive forces.
We have a joint responsibility to work for its eradication. Our common victory is certain."
– Oliver Tambo, UN General Assembly, 1982
"We have succeeded to mobilise and unite millions of people to reject the legitimacy of the apartheid regime, to unite behind the organised democratic forces of our country as their authentic representatives and to accept consciously the perspective of a united struggle for a free South Africa, refusing to be misled by false promises of reform and gradual adaptation or amendment of the apartheid system."

– Oliver Tambo, Make South Africa Ungovernable, 1985
"Women in the ANC should stop behaving as if there was no place for them above the level of certain categories of involvement. They have a duty to liberate us men from antique concepts and attitudes about the place and role of women in society and the development and direction of our revolutionary struggle. In fear of being a failure. Comrade Lindiwe Mabuza cried and sobbed and ultimately collapsed on top of herself when she learnt she had been appointed ANC Chief Representative to the Scandinavian countries. But, looking at the record, could any man have done-better?"

– Oliver Tambo, Women's Section of the ANC, Angola
"He placed our organisation on a level it had never reached before. Though exile and imprisonment kept us apart for many years, Oliver was never far from my thoughts. When at times in prison there were difficult choices and decisions to make, I would also think of how Tambo would handle things, such was his strength as a strategist. And we think of Oliver`s return to South Africa after three decades in exile, his strength of leadership undimmed by the toll that his dedication had taken on his health."
– Nelson Mandela, Former President of South Africa
"He came from Pondoland, in the Transkei, and his name was Oliver Tambo. From the start, I saw that Oliver's intelligence was diamond-edged; he was a keen debater and did not accept the platitudes that so many of us automatically subscribed to. Oliver lived in Beda Hall, the Anglican hostel, and though I did not have much contact with him at Fort Hare, it was easy to see that he was destined for great things."
– Nelson Mandela, Former President of South Africa
"[Tambo] was a natural democrat to his very soul. He insisted on being called the Acting President of the ANC because he had not been elected to the position by a full conference of the organisation, and as he once told me, Nelson Mandela, not he, was Commander-in-Chief.
If you did a paternity test on the Constitution whose DNA would come up? It is unequivocal. There can be no doubt; the DNA that would come up would be that of Oliver Tambo. From concept to conception, the trajectory from the ideas of Oliver Tambo in the 1980s in Lusaka to the final text of our Constitution in 1996 is clear and indisputable."
– Albie Sachs, Former Justice of the Constitutional Court
Tambo was christened Kaizana, after Kaizer Wilhelm of Germany, whose forces fought the British during WWI. This was his father's way of showing opposition to the British colonisation of Pondoland in 1878.