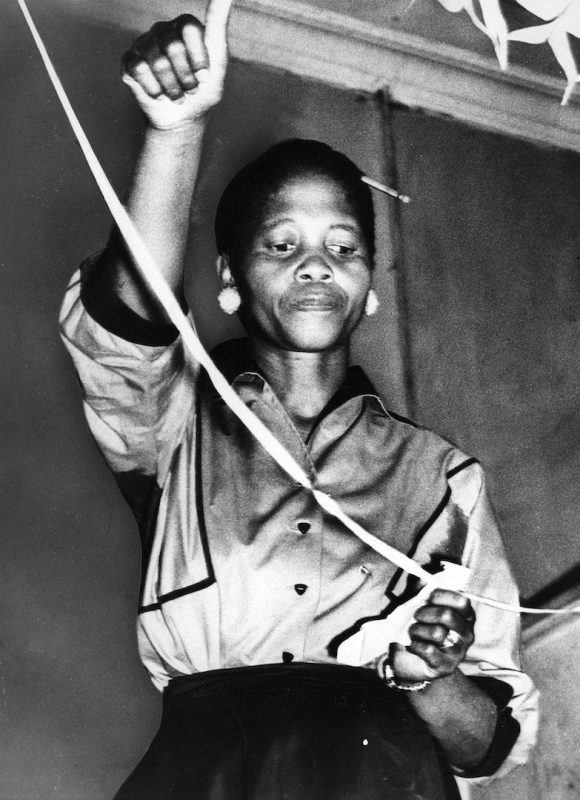 Politician | Human rights activist | ANC Women's League (ANCWL) President
Born: 25 September 1911 Died: 13 March 1980
"My womb is shaken when they speak of Bantu Education."
Politician and anti-apartheid activist, a defendant in the Treason Trial and leader of the anti-pass demonstrations.
Former President of the ANCWL and the Federation of South African Women (FEDSAW).
Leadership role in the 9 August 1956 march to the Union Buildings, and being the first woman ever elected to the African National Congress (ANC) National Executive Committee (NEC).
Ngoyi joined the Garment Workers Union and became one of its leading figures. She joined the ANC during the 1950 Defiance Campaign, and was arrested for using facilities in a post office reserved for white people.
Ngoyi was elected as President of the ANC Women's League in 1951. She attended the Women's International Democratic Federation conference and was invited to tour eastern bloc countries – including Russia and China – with a group of socialist delegates in 1955.
Ngoyi was appointed as one of the FEDSAW national vice-Presidents and elected as its President in 1956. She became a member of the Transvaal ANC executive from 1955 and in 1956 became the first woman ever elected to the ANC NEC.
Ngoyi led the women's anti-pass march to the Union Buildings on 9 August 1956.
In 1956 Ngoyi was arrested for high treason along with 156 other leading figures, and stood trial until 1961 in the Treason Trial.
Ngoyi was imprisoned for five months under the 1960 state of emergency and spent most of this time in solitary confinement.
She was first issued banning orders in October 1962 and jailed under the 90-day detention act in the mid-1960s, spending 71 days in solitary confinement.
Ngoyi's second banning order was renewed in 1975.
"My womb is shaken when they speak of Bantu Education."
– Lillian Ngoyi, Bantu World Newspaper, 1955
"Let us be brave: we have heard of men shaking in their trousers, but who ever heard of a woman shaking in her skirt?"
– Lillian Ngoyi, inaugural conference of the Federation of South African Women, 1954
"I joined the ANC in 1948 because of Lillian Ngoyi … The way she used to preach to me about the future of the child you are going to bring into this world."
– Albertina Sisulu, anti-apartheid activist
Ngoyi was the one who knocked on Prime Minister J G Strijdom's door to hand over the petitions during the anti-pass march on 9 August 1956. She is often referred to as the "mother of the black resistance" in South Africa.