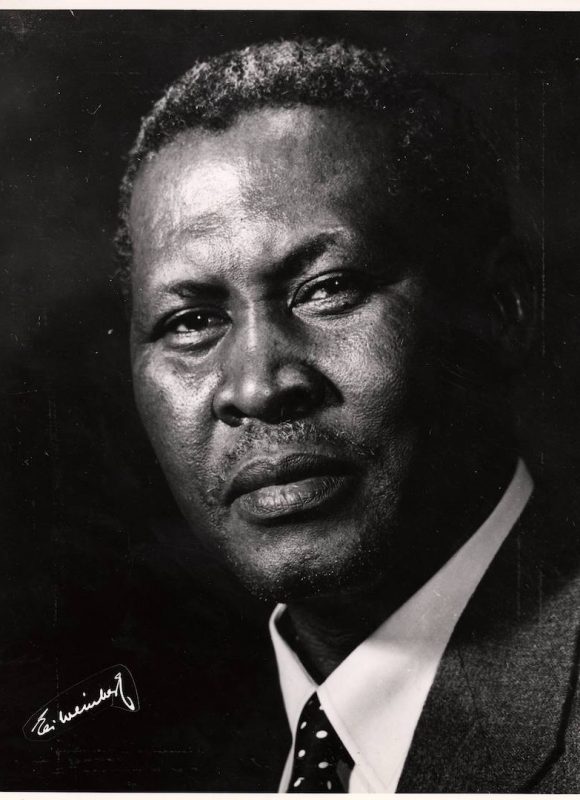 Politician | ANC President | teacher
Born: 1898 Died: 21 July 1967
Happily, I am only one among millions who have dedicated their lives to the service of mankind, who have given time, property and life to ensure that all men shall live in peace and happiness, and I like to here say, that there are many in my country who are doing so."
Anti-apartheid activist and 1956 Treason Trialist, who later served as President-General of the African National Congress (ANC) and won the Nobel Peace Prize.
Teacher, ANC politician and President-General of the ANC.
Leadership and commitment to the ANC, in particular as its President-General, as well as being the first African to receive a Nobel Peace Prize Laureate.
After completing his teaching course, Luthuli took up the running of a small primary school in the Natal uplands. He was confirmed in the Methodist Church and became a lay preacher.
In 1920, Luthuli received a government bursary to attend a higher teachers' training course at Adams College. He subsequently joined the training college staff.
He then joined the Natal Native Teachers Union and in 1928 was elected as its secretary.
In 1935, Luthuli agreed to accept the chieftaincy of Groutville reserve and returned home to become an administrator of tribal affairs.
In the early years of his chieftaincy, he became involved with defending the interests of the African cane growers.
After the death of John L Dube in 1946, Luthuli became involved in strengthening the ANC in Natal. Luthuli was elected as Dube's successor on the Natives Representative Council (NRC). Luthuli remained unopposed in 1948 on the NRC.
Luthuli became the Natal provincial President of the ANC in 1951.
After publicly supporting the 1952 Defiance Campaign, he was dismissed from his post as chief in 1952.
At the annual conference in 1952, Luthuli was elected ANC President-General by a large majority. He was re-elected in 1955 and in 1958.
Throughout Luthuli's tenure as President-General of the ANC, he was confined to his rural home due to bans by the South African government. Nevertheless, he was able to write statements and speeches for presentation at ANC conferences, and was occasionally able to attend in person.
In 1956 he was included in the treason arrests but was released in late 1957.
Luthuli was awarded the Nobel Peace Prize in 1960.
"Yes, it is idle to speak of our country as being in peace, because there can be no peace in any part of the world where there are people oppressed. For that reason South Africa has been, and continues to be, the focus of world attention. I therefore regard this award as a recognition of the sacrifice made by many of all races, particularly the African people, who have endured and suffered so much for so long. It can only be on behalf of the people of South Africa, all the people of South Africa, especially the freedom-loving people, that I accept this award, that I acknowledge this honour. I accept it also as an honour not only to South Africa, but for the whole continent of Africa, to this continent, Mother Africa!
Happily, I am only one among millions who have dedicated their lives to the service of mankind, who have given time, property and life to ensure that all men shall live in peace and happiness, and I like to here say, that there are many in my country who are doing so."
– Albert Luthuli, Acceptance Speech on the occasion of the award of the Nobel Peace Prize in Oslo, 10 December 1961
"As for myself, with a full sense of responsibility and a clear conviction, I decided to remain in the struggle for extending democratic rights and responsibilities to all sections of the South African community. I have embraced the non-Violent Passive Resistance technique in fighting for freedom because I am convinced it is the only non-revolutionary, legitimate and humane way that could be used by people denied, as we are, effective constitutional means to further aspirations. The wisdom or foolishness of this decision I place in the hands of the Almighty. What the future has in store for me I do not know. It might be ridicule, imprisonment, concentration camp, flogging, banishment and even death. I only pray to the Almighty to strengthen my resolve so that none of these grim possibilities may deter me from striving, for the sake of the good name of our beloved country, the Union of South Africa, to make it a true democracy and a true union in form and spirit of all the communities in the land."

– Albert Luthuli, 1952
"Luthuli exemplified moral and practical convergence and much like Nelson Mandela, had the ability to think futuristically. Between these two leaders there is much to learn about selfless leadership that strives to achieve goals beyond yourself for the people you lead."
– Dr Zweli Mkhize, Minister of Health
"This year marks the centenary of the birth of one of the greatest leaders of the freedom struggle: a colossus and yet a foot soldier of our people, Chief Albert Luthuli. His memory will last forever to us who worked with him and followed in his footsteps. This giant chose persecution, including the fat of being deposed as an elected chief by a regime that despised everything African and democratic. In doing so he taught us the lesson that real leaders must be ready to sacrifice all for the freedom of their people."
– Nelson Mandela, Former President of South Africa, 25 April 1998
"Men on the whole are rough and they want their decisions to come first. Albert, in contrast, wanted to know how he could make things better. He had extraordinary gifts."
– Nokukhanya Luthuli, wife of Albert Luthuli
Although christened "Albert John", Luthuli preferred his Zulu name Mvumbi, which means continuous rain.